---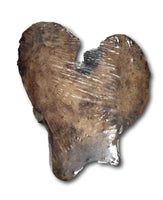 Beef Knuckle Slice - All Natural - 1 Piece
Our Beef Knuckle Slice is a high-quality and all-natural dog chew that is perfect for keeping your furry friend happy and healthy. Made from 100% natural beef knuckle, these chews are rich in protein and essential nutrients that dogs need to stay strong.
Each slice is slow-roasted to perfection to create a deliciously crunchy and chewy texture that your dog will love. The natural shape and size of the knuckle slice also help to promote dental health by reducing plaque and tartar buildup.
Our beef knuckle slices are free from any harmful additives or preservatives, ensuring that your dog is getting only the best. They are also suitable for dogs of all sizes and breeds, making them a versatile treat option for your furry friend.
The all-natural format of our Beef Knuckle Slices makes them a healthy and delicious alternative to processed dog treats. So, give your furry friend the best with our all-natural and delicious Beef Knuckle Slice!